Red State Feminist brings us the disturbing tale of the custody battle over these two little girls, 13-year old twins, Lamb and Lynx Gaede. These two children are popularly known as the Olsen Twins of White Supremacy. Their mother has homeschooled them in neo-Nazism and has nurtured their careers as a pop duo called "Prussian Blue," which sings odes to Adolf Hitler, Rudolph Hess and the Third Reich. They are very popular in white nationalist circles and are considered a valuable asset in recruiting new members.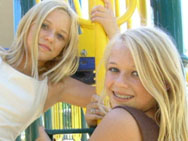 Their dad has been fighting for custody on the ground that their mother is damaging them by teaching them a poisonous ideology of hate. Unfortunately, dad has a history of drug abuse and domestic violence. The judge ruled that mother should retain custody, but that father may have limited visitation with the twins.
As everyone agreed in the comments thread at Red State Feminist's site (last I checked), this decision was a no-brainer, albeit a painful one. We can't start depriving parents of child custody based on the values they are teaching their children-- even if these are socially unacceptable values. If that were the standard, then atheist parents would be in big trouble in many places. But ouch, the thought of these young kids being immersed in Nazi ideology sure does hurt. (And certainly, the Gaede twins aren't the only ones.)
The good news is that Nazism is socially unacceptable and is nearly universally understood to be a destructive ideology based on lies. When the Gaede twins grow up, there is a chance that they will come to the error in their mother's ways. If not, I suppose, they will live out their lives on the fringes of society, continuing to preach white superiority. Unfortunately, none of us can choose our parents or the culture in which we will be raised.
NOTE: It might, however, be appropriate to revoke custody of the parents just based on the extreme cruelty of naming them "Lynx" and "Lamb."